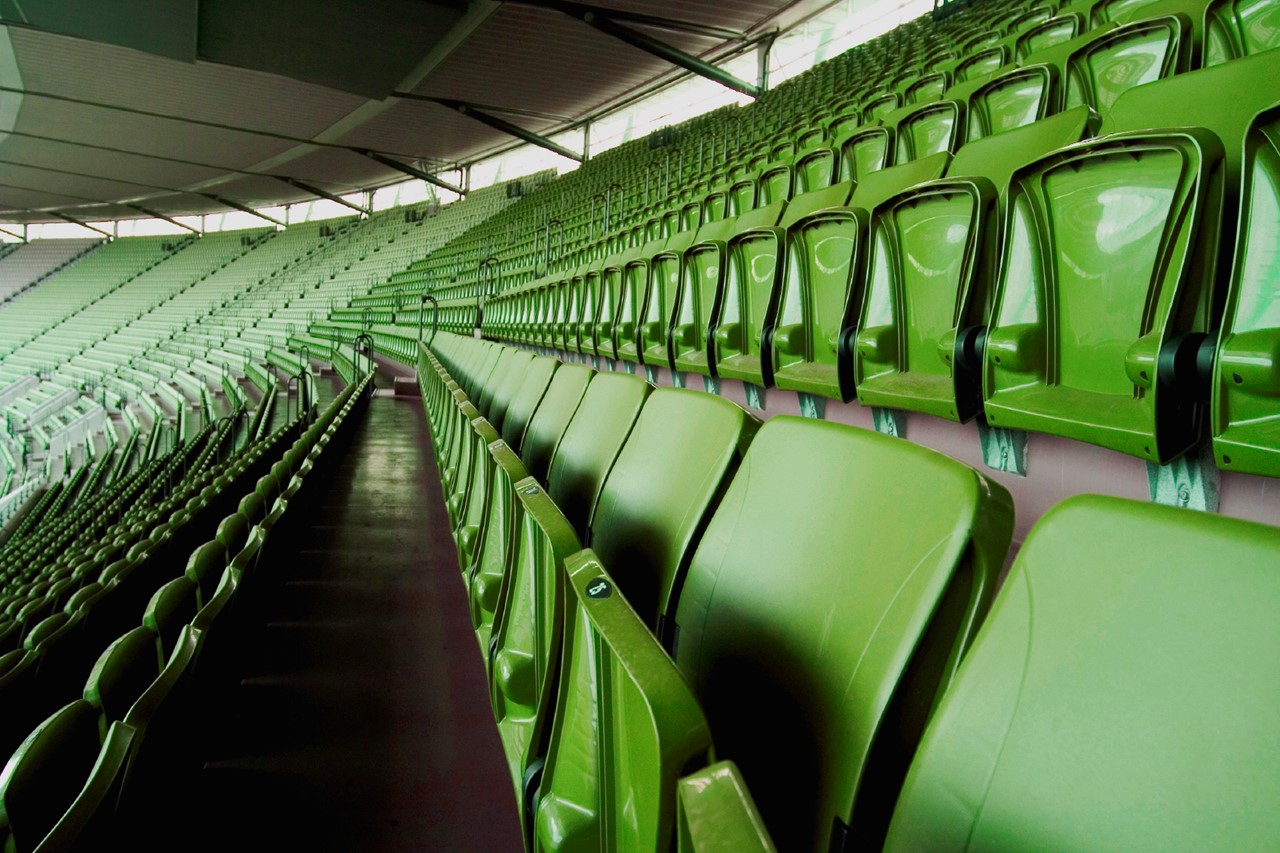 Sports Venues
Polysonics provides designs that maximize the fan experience. Large format displays bring the action closer to the stands, high impact audio brings energy to the entire venue and advanced technologies behind the scenes help capture the action that keeps them coming back for more.
Acoustics
Acoustics
Polysonics offers a wide range of acoustic services. From noise control to complex 3D acoustic modeling, we will create the perfect sports experience.
Arena & Stadium Acoustics
LF Build UP Control
Reflection Control
Noise Isolation
A/V Technology
A/V Technology
To communicate is to simply convey knowledge or information. For over 50 years, Polysonics has been helping our clients convey their message in whatever format they choose. High Definition Video Conferencing and Large Format Digital Video Walls are just a couple of the tolls Polysonics utilizes to help you share information. Our design solutions remove barriers so you can communicate without boundaries.
Performance Audio Systems
Video Projection Systems
Video Scoreboards
Digital Signage
Paging Systems
Video Distribution
BGM/Overfl ow Audio
Press Feed Systems
Audio & Video Booth Control
RF & Coach I/C Systems
Production Intercom
Audio/Video Delay Systems
Truck Docks/Interconnect
Broadcast Cabling
Video Coaching
Security
Security
Polysonics designs fully integrated protection solutions that provide both peace of mind and efficiency in operation. Using the latest technologies, we can address video surveillance, intrusion detection, and access controls to keep your building safe and sound.
Closed Circuit TV
Door Access Systems
Intrusion Detection & Alarm
DATA & IT
DATA & IT
At Polysonics, we provide data and technology solutions that allow for effective and efficient communication. With our Registered Communications Distribution Designer (RCDD) on staff, our designs are always fully integrated and modular. This provides not only the features you need today, but also the capability to meet the needs of tomorrow.
Voice & Data Infrastructure Design
WAN/LAN System Design
WIFI System Design
DAS Design
Construction Assistance
Construction Assistance
Polysonics wants to identify what you really need. Once that is determined, we will verify all the bids you receive are for complete systems and then communicate clearly with contractors so they understand your requirements. Our careful planning and administration will minimize issues and avoid costly change orders to your project.
Creative Vision
Feasibility Studies
Contract Administration
Contractor Bid Qualification
System Commissioning
Noise Abatement
Noise Abatement
Quieting noise. Controlling vibrations. Creating peaceful places. Since 1958 Polysonics has provided a broad range of noise and vibration services to bring quiet to an increasingly noisy world. Through careful measurement, analysis, modeling and design, Polysonics helps create sites and structures that do more than meet the code, they make great places to work and live. We eliminate the sounds you don't want, so you can hear the sounds you do.
HVAC & Mechanical Noise Control
Building Vibration Modeling & Analysis
Mechanical Equipment Isolation
Traffic Noise Measurement & Prediction Modeling (TNM)
Railway Noise Measurement & Modeling (HUD)
Noise Barrier Design & Optimization